Please join us for the Coronation of Ioannes Aurelius Serpentius II and Ro Honig von Sommerfeldt II.
—————————————————————————
MASKS ARE REQUIRED IN THE ENTIRE BUILDING DUE TO SAFETY CONCERNS
—————————————————————————
Although the SCA complies with all applicable laws to try to ensure the health and safety of our event participants, we cannot eliminate the risk of exposure to infectious diseases during in-person events. By participating in the in-person events of the SCA, you acknowledge and accept the potential risks. You agree to take any additional steps to protect your own health and safety and those under your control as you believe to be necessary.
The Barony of Concordia of the Snows is planning a "Fire Rebuilding" auction, there will be a "To Absent Friends" gathering space and a judged Pageantry Competition.
Tentative Schedule:
9:00 AM – Early set-up for Royal Staff only
10:00 AM – Gate Opens
10:30 AM – Concordia Fire Rebuild Silent Auction Opens & To Absent Friends Gathering Spaces opens
11:00 AM – The Last Court of Magnus Tindal and Alberic von Rostock
12:30 PM – Coronation of Ioannes Aurelius Serpentius II and Ro Honig von Sommerfeldt II
1:30 PM – Ioannes Aurelius Serpentius II and Ro Honig von Sommerfeldt II Sit in State
3:30 PM – Concordian Fire Rebuild Live Auction
4:30 PM – First Court of Ioannes Aurelius Serpentius II and Ro Honig von Sommerfeldt II
Merchants welcome, please, reach out to the Merchant Liaison.
The site is dry.
There are several hotels in the area Scotia, NY area, below are the two closest:
Comfort Inn & Suites Schenectady -Scotia
168 Sacandaga Road, Schenectady, NY, 12302
(518) 348-5276
Hampton Inn Schenectady
450 State St, Schenectady, NY 12305
(518) 377-4500
Site Opens: 10 AM
Site Closes: After First Court ends or 7pm whichever comes later
---
Site Rules:

Dry
Smoking strictly prohibited inside the building and near doors
Decorations may be hung as long as no damage is done to the building.
Please do not park on the yard.
Any questions or if you have pageantry to display on-site,
please reach out to:
Baron Rhys mka Stephen Long 221957@members.eastkingdom.org
---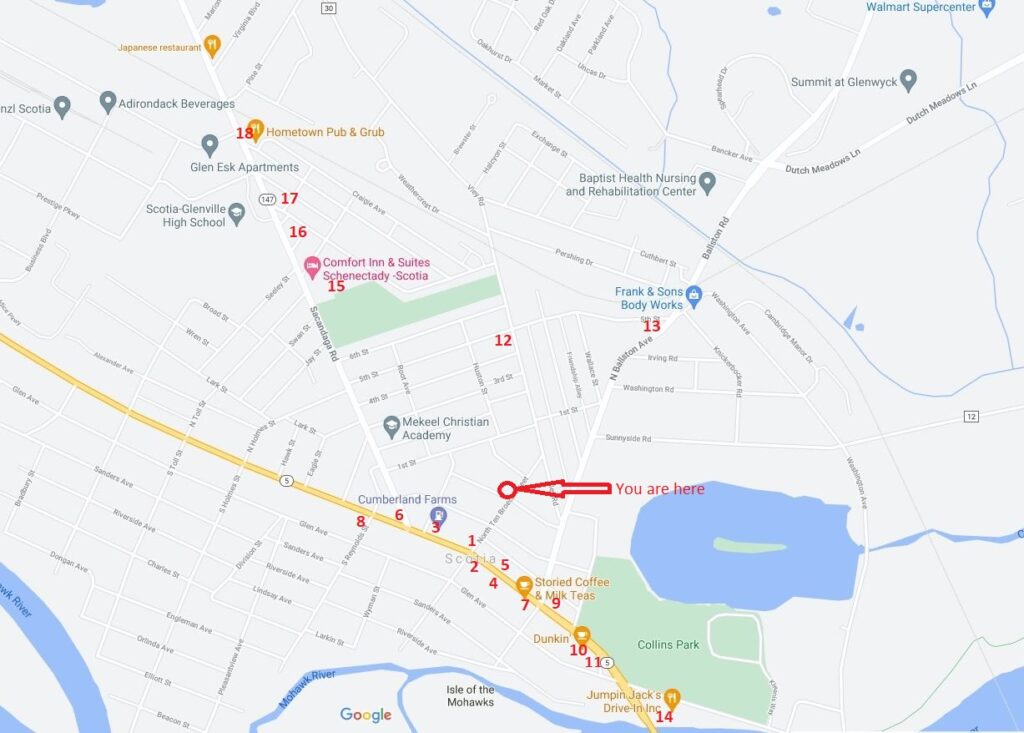 Map of site and local food/attractions
Detailed list below:
---
---
Parking Info below:
---
Concordia fire recovery auction:
The Barony of Concordia of the Snows lost almost everything in a catastrophic storage unit fire April 2021. While "things" like tents, feast kitchen, gold key, signs, banners, etc. can be replaced, we then learned there would be no insurance compensation due to an SCA administrative complication.
Thankfully with the kindness of the royalty and the generosity of the populace, we are on our way to recovery. We're so very thankful for, and impressed by, the great outpouring of love and the willingness of our Scadian family to help us!
If you're coming to coronation 8/28/22 or know someone who is coming and want to bid via them, here are some of the awesome things up for bid:
Background music for your gathering
Concert for your gathering
Hand forged campfire cookery
Signed embroidery book "New Carolingian Modelbook,"
Hand knit socks to order
Calligraphy
Wool & silk handmade cape
Bead set, made to order
bead making set up kit
Viking wire weave necklace made to order
Handmade Sparky parasol
Handmade silver coin haul
Fresh roasted world coffees
and more!
If you're bringing donation items day of, please drop them at the Loomis Room by 1030am.  Let me know if questions. 
Thanks again to everyone for your help rebuilding Concordia!
Janna von Guggisberg
221154@members.eastkingdom.org
---
Merchants:
Greetings one and all, and Welcome! This year we are honored to have two merchants join us for the Coronation of Ioannes and Honig.

T.F. Woodcraft – wooden fiber arts tools, hand turned bowls and some kitchen items.

Miriam's Yarns & Fibers – Merchandise consists of silk saris, yarns and fibers, prepackaged tea, coffee, and mythical meat sticks, throwing axes,. Jewelry, embroidery floss, felt footwear, and a handful of other miscellaneous items.

Please take the time to browse their wares, I'm sure you'll find something you like.
---
Coronation Absent Friends Memorial Room:
Our family and friends live in our hearts. Hearts which have been separated throughout the Kingdom for much too long and unable to connect and celebrate the lives of absent friends. This memorial room is a safe space where we can be reminded of those who are no longer with us and speak their word fame with hearts together for the first time in much too long.
To add someone to the Memorial of Absent Friends, please email:
Katrusha Skomorokh katrusha.the.skomorokh@gmail.com